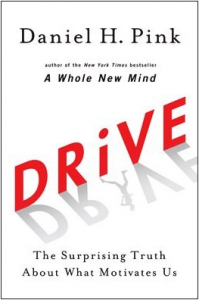 I've just finished reading this book, which was recommended to me by a number of colleagues including Jay Cross.
The promotional material on Dan Pink's website says it all:
"Drawing on four decades of scientific research on human motivation, Pink exposes the mismatch between what science knows and what business does—and how that affects every aspect of life. He demonstrates that while carrots and sticks worked successfully in the twentieth century, that's precisely the wrong way to motivate people for today's challenges. In Drive, he examines the three elements of true motivation—autonomy, mastery, and purpose—and offers smart and surprising techniques for putting these into action."
This is a book that all learning professionals should read.  Here are just a few of the gems I've picked out ...
"Human beings have an innate drive to be autonomous, self-determined and connected to one another.  And when that drive is liberated, people achieve more and live richer lives."

"The opposite of autonomy is control.  And since they sit at different poles of the behavioral compass, they point us to different destinations.  Control leads to compliance; autonomy leads to engagement."

"It means resisting the attempt to control people - and instead doing everything we can to reawaken their deep sense of autonomy"

"A sense of autonomy has a powerful effect on individual performance and attitude.  According to a cluster of recent behavioural studies, autonomous motivation promotes greater conceptual understanding, better grades, enhanced persistence at school and in sporting activities, higher productivity, less burnout and greater levels of psychological well-being."