In this the second part of my Review of 2010 I am going to present my 10 favourite resources that I have posted on my Pick of the Day (JPOD) and Social Media for Working and Learning (SMWL) blogs this year. 
It was a difficult choice, but here they are in chronological order of posting. Follow the links to the original postings to find out more.
---
1 - A brief history of pretty much everything
The final piece for an AS art course, a flipbook made entirely out of biro pens. It's something like 2100 pages long, and about 50  jotter books.  It's now been viewed nearly 3 million times on YouTube.
JPOD: 11 February 2010
---
2 - TypeWithMe


Following the acquisition of Etherpad (a collaborative Text editing tool) by Google, Chris Pirillo and Jake Warner "froze the Etherpad code in time" and released it as Type With Me.
JPOD: 8 March 2010
---
3 - Packrati.us
This site provides a useful and very simple bookmarking service for Twitter.  Originally it supported just Delicious, but now also Historious, Instapaper, Pinboard.in, and Diigo accounts.
SMWL 9 March 2010
---
4 - SmokeScreen
Smokescreen is a game about life online. Users explore websites, search for clues, receive phone calls, chat on IM, and tackle puzzles and minigames. On Smokescreen, the question is: who can you trust?
JPOD 22 March 2010
---
5 - Drive: the surprising truth about what motivates us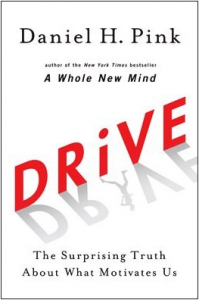 Drawing on four decades of scientific research on human motivation, Daniel Pink exposes the mismatch between what science knows and what business does—and how that affects every aspect of life. He demonstrates that while carrots and sticks worked successfully in the twentieth century, that's precisely the wrong way to motivate people for today's challenges. In Drive, he examines the three elements of true motivation—autonomy, mastery, and purpose—and offers smart and surprising techniques for putting these into action
JPOD 15 March 2010
---
6 - FlightRadar24


If you're in Europe and are interested in what's happening in the airspace, take a look at Flightradar24.com. It  shows live aircraft traffic in the airspace above Europe.  Might be quite useful at the moment to see what flights are taking off in the artic conditions we are experiencing in Europe!
JPOD 25 March 2010
---
7 - IdeaPaint


Idea Paint turns virtually anything you can paint into a dry-erase surface and any room into a hub of creativity and collaboration.  (Paint now available in Europe!)
JPOD 12 May 2010
---
8 - ipadio
ipadio allows you to broadcast from any phone to the Internet live.  Phone blog, collect audio data, record and update the world, or simply let your mates know what you're doing - ipadio is integrated with social media & blogging platforms.
JPOD 5 June 2010
---
Jane  Bozarth's latest book  provides an ideal introduction for anyone who wants to understand how to use tools, like blogs, wikis, Twitter, Facebook, YouTube, SlideShare, Flickr, etc  to deliver training, facilitate discussions and extend learning beyond the confines of a training event.
2 September 2010
---
This book by Marcia Conner and Tony Bingham is the first book to showcase how social media tools can be used inside organization to connect people and spur innovation–both for learning and for improving the bottom line. It's chock full of case studies, examples, approaches to address the critics, and lessons learned
14 September 201o
---
A few more favourites ..
Do you have a favourite resource that you found here at Jane's Pick of the Day?